sensation formula
There are cat foods. There are super premium cat foods. And then there's Kenbary Sensation formula. It's our most popular cat food and for good reason it is. This high-protein, indoor formula is made with just the right combination of quality ingredients for adult cats, plus the vitamins and minerals that are the building blocks for proper health. It is also high in fiber to aid in the control of hairballs. And it's highly compatible with our Kitten Formula, so your kitten won't have any trouble making the transition to an adult food.
Power points:
Rich in dried chicken and rice
Wheat ( gluten ) free
With dried fish & eggs
Supports a healthy coat and skin condition
Supports gut health/intestinal function
Supports the immune system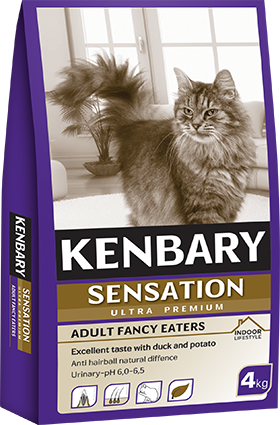 Ingredients
Corn, dried chicken (14%), rice (14%), poultry fat, dried fish (8%), barley, corn gluten, brewer's yeast, egg powder, dried salmon, flax seed, dried beet pulp, salmon oil, inulin (source of FOS).