senior formula
Once your dogs reach a mature age, you want to do all you can to keep them healthy. Kenbary Senior formula is a nutritious food designed to boost vitality also at old age. The high protein and moderate fat content helps to ease strain on the metabolism.
The balanced formula, containing valuable antioxidants, helps to counteract cell-ageing. It is therefore highly suitable for older dogs. Your senior dog has certainly earned it.
Power points:
Rich in chicken and rice
Wheat ( gluten ) free
Higher protein content for maintaining muscle mass
Adapted mineral content for the older dog
Supports gut health & intestinal function
Supports a good skin and coat condition
Supports the immune system
Inclusion of L-carnitine, which stimulates fat metabolism
Inclusion of L-carnitine and taurine for support of the heart function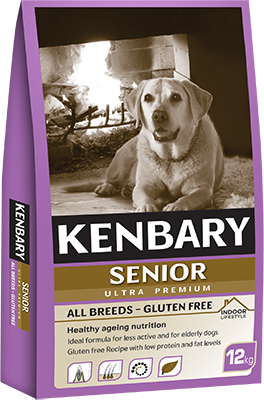 Ingredients
Corn, dried chicken (17.5%), rice (14%), barley, poultry fat, corn gluten, flax seed, dried carob pods, lignocellulose, brewer's yeast, dried beet pulp, salmon oil, dried fish, inulin (source of FOS), glucosamine, chondroitin.