MINI puppy formula
During their first months, puppies need extra nutrition for added energy and to assist in the growth of developing organ and muscle tissue.
Kenbary Mini Puppy is an ultra premium, special growth formula for small breeds that can be fed from the time of weaning to 12 months. It's made with high quality ingredients plus the vitamins and minerals that are the building blocks for proper health, so your puppy will get a healthy start in life for an optimal development.
Kenbary Mini Puppy is also ideal for dogs during pregnancy and lactation.
Power points:
High amount of chicken (33%) and rich in rice (14%)
Wheat ( gluten ) free
Supports a good development and growth
Adapted kibble shape for growing dogs
Supports a good coat and skin condition
Supports gut health & intestinal function
Supports the immune system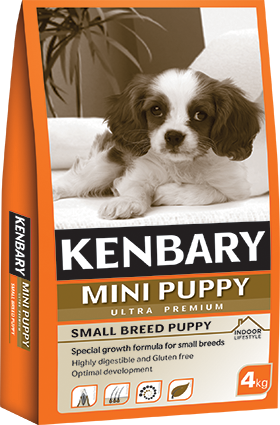 Ingredients
Dried chicken (33%), corn, rice (14%), poultry fat, barley, dried beet pulp, dried carob pods, flax seed, brewer's yeast, salmon oil, egg powder, inulin (source of FOS), glucosamine, chondroitin.