MINI & TASTY formula
When our nutritionists created Kenbary Mini & Tasty formula, they ventured far beyond ordinary super premium dog food.
Kenbary Mini & Tasty is made with upscale ingredients. Because our food is so wholesome, it is exceptionally digestible which is not only beneficial for your dog, but means less clean-up for you!
Super tasty & healthy, that's what Kenbary is all about.
Power points:
High amount of chicken, rich in rice
Wheat ( gluten ) free
Supports gut health & intestinal function
Supports a good skin and coat condition
Supports the immune system
Stimulates the fat metabolism
Adapted kibble size for small breeds
Reduces the odour of faeces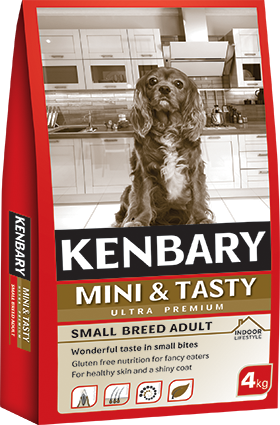 Ingredients
Dried chicken (28%), corn, rice (14%), barley, poultry fat, corn gluten, flax seed, brewer's yeast, egg powder, dried beet pulp, salmon oil, inulin (source of FOS), glucosamine, chondroitin.