kristal formula
A well balanced prevention and care formula with high quality ingredients that ensures high digestibility for your feline friend.
Kenbary Kristal is ideal for adult cats and cats with a sensitive digestive system and also controls the pH urine (towards < 6.5) and reduced amount of struvite forming minerals in order to support in the prevention of struvite stone formation
A special dietary fiber is added in order to reduces the hair ball formation.
If your cat is sterilized or has a tendency of developing urinary problems, feed him with Kenbary Kristal for better life.
Kenbary Kristal can be also used as a prevention diet for normal adult cats.
Power points:
Controls the pH urine (towards < 6.5) and reduced amount of struvite forming minerals in order to support in the prevention of struvite stone formation
Helps to reduce the formation of hairballs
Supports gut health & intestinal function
Supports a good skin and coat condition
Supports the immune system
Reduces faecal odour
Rich in chicken, rice and peas
Wheat ( gluten ) free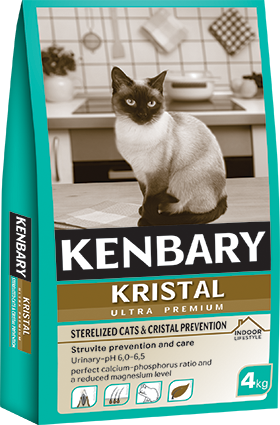 Ingredients
Dried poultry (16.5%), animal protein extract, rice (14%), peas (14%), barley, poultry fat, cellulose, corn, corn gluten, hydrolysed chicken liver, salmon oil, flax seed, dried salmon, egg powder, brewer's yeast, inulin (source of FOS), cranberries.