PUPPY & junior formula
Medium & Large breed puppies are highly active and growing fast. But it is important that they grow at the proper rate to ensure strong healthy bones and muscles that will support their larger bodies. That's why we created Kenbary Junior formula with moderate levels of protein and the optimum ratio of calcium to phosphorus in order to ensure the proper growth rate. It's made with high-quality, highly digestible ingredients plus the vitamins and minerals that are the building blocks for proper development and a healthy start in life. During this critical life stage, nothing's more important to your growing puppy.
Power points:
High amount of dried chicken (21%)
Rich in rice (14%)
Wheat ( gluten ) free
Supports a healthy coat and skin condition
Supports gut health & intestinal function
Supports the immune system
Adapted kibble for growing dogs of medium to large breeds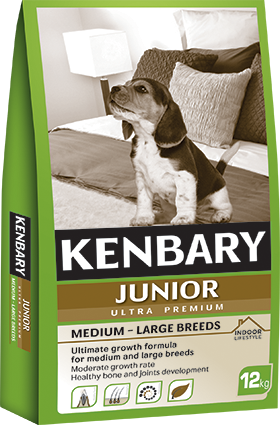 Ingredients
Corn, dried chicken (21%), rice (14%), barley, poultry fat, egg powder, dried carob pods, flax seed, brewer's yeast, dried beet pulp, lignocellulose, salmon oil, glucosamine, chondriotin.