salmon formula
It's not uncommon for dogs to be allergic to certain pet food ingredients, most often wheat, soy, beef, or poultry protein. So we developed Kenbary Salmon formula to provide ultra premium nutrition from Salmon and sweet Potato. This grain free dog food formula, contains premium vitamins and minerals plus herbs to aid digestion, and purified poultry fat (which contains no chicken protein or allergens) for enhanced taste and healthy skin and coat. If you want an ultra premium pet food but your dog is prone to food allergies, Kenbary Salmon may be just the solution.
Power points:
Inclusion of fresh salmon, high amount of salmon
Grain free recipe
Peas and ( sweet ) potato as carbohydrate source
Contains vegetables: ( sweet ) potato, peas, tomato, carrot, celery
Contains fruits: apple, mango, banana, prunes and cranberry
Contains herbs: thyme, nettle and basil
Supports gut health & intestinal function
Supports a good skin and coat condition
Supports dental health
Contains spirulina and Echinacea
Contains chelated trace elements, better bioavailability
Reduces faecal odour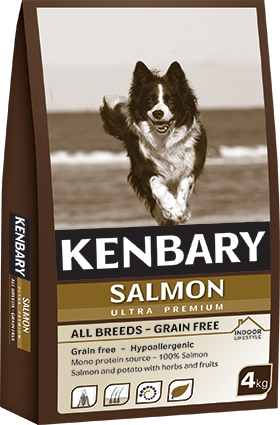 Ingredients
Fresh salmon (20%), peas (10%), dried salmon (10%), dried sweet potato (7.7%), dried potato (7.53%), potato starch, poultry fat, pea protein, dried beet pulp, brewer's yeast, dried carob pods, flax seed, salmon oil, egg powder, minerals (hexametaphosphate), inulin (source of FOS), dried carrot, nettle, Echinacea, dried tomato, dried apple, dried mango, dried prunes, dried banana, thyme, basil, spirulina, cranberry, celery, glucosamine, chondroitin.